If google search bring you here, you probably love music like I do. Most people don't care what earbuds they use, as long as it's working. Eventually they can't use it anywhere or end up use it awkwardly. For example walking in the mall holding iPhone while earbuds plugged in and doing something else. I can feel how uncomfortable it was just by looking at the user. There is nothing wrong with the place and the phone. The earbuds is what makes it look awkward.
This review is about Jaybird Bluebuds X I bought from Jaybird that solve the problem above.
I can listen to my music anytime and anywhere without worry about my appearance or what I looked like.
And not just that, this earbuds had a lot of amazing feature and I'm going to explain it in detail below.
So what makes Jaybird Bluebuds X the best wireless earbuds today?

• Comfortable
Wireless? Yes it is.
Say goodbye to long wire and pluggy thing that slow down and limit our activity.
This wireless earbuds is perfect to grab if you love to listen to your music or having a call while doing something else.


Don't worry about the wire behind neck, you can fold it using fit cord management clips so it will fit your neck.
Bluebuds X also came with patented sport ear cushion that hug into the top, back and lower surface of the ear.
This cushion utilize a properitary hexagon cushioning for maximum stability.
And guess what, this earbuds is designed for sport.


How about sweat?
This product is sweat proof and if something bad happen (which never happen to mine), no worries. Lifetime warranty against sweat included in this product.
So the conclusion is this product was super comfortable.
• Sound and Bass Quality
Bluebuds X uses Bluetooth Class 2.1+ EDR (Low Energy) version which is good enough for the sound quality.
Higher version of bluetooth is available but it offers no benefit because BLE (Bluetooth Low Energy) is not adequate for streaming high bandwidth stereo music.
They also use parented puresound technology that remove noise and delivering a clean audio experience.
What I experience?
Sweet, more or less equal to iPhone earbuds in my opinion.
• Battery
Bluebuds uses micro USB which is available in most smartphone today.


The company itself claimed that their product can stay up to 8 hours.
I was able to listen 2 hours a day for 3 days. Approximately 6 hours for my usage (normal volume and some voice calls).
But that doesn't matter to me as I don't need to bring charger with me anywhere.
I forgot to mention that another battery indicator will appear next to phone battery indicator once connected to phone and if the battery drop to 20%, a warning will shown.
Sadly it only available for iPhone user.
• Controls
Bluebuds X came with 9 music and call controls.


You don't need to touch your phone once the bluetooth connection was made.
Simply press the button to accept/stop a call, play/pause or skip music and more.
This controls works in most smartphone (Samsung, Apple, Nokia, and Blackberry).
I love this one.
• Color
Available in two color, Midnight Black and White Storm.


Both with not much different price, no racist here.
Which one will you grab?
• Other Features
– Signal Plus
Most wireless earbuds could skip music if the bluetooth signal disturbed or blocked.
Thanks to this feature, users can keep their phone in the pocket while running or even inside a bag without any problem.
– Jenna Voice Prompts
It tells you "power on" when you turn on the device, "device connected" when a connection successfully established between phone and bluebuds.
And the most important is that this feature will also help user while pairing a device.
• In the Box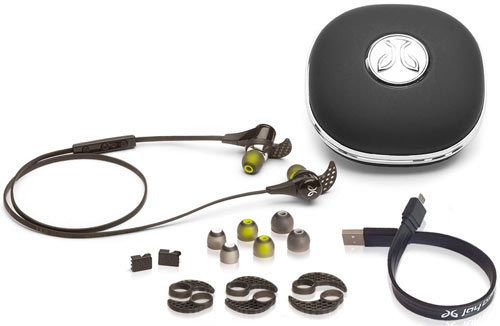 3 pair ear tips (S, M, L) none installed.
3 pair secure fit ear cushions (S, M ,L)
2 X-Fit cord management clips
Standard Micro USB Cable
Premium Protective Carry Case
Interested? Why wait?
Grab this sweet baby home today from Amazon by clicking the image below.
Thank you for reading, have a nice day.
Storm White

Midnight Black

RELATED PRODUCTS AND ACCESSORIES