Dash Cam Review

Dashcam (a.k.a. Dashboard Camera) is a car camera, car DVR, or accident recorder. It is usually attached to the vehicle's interior windscreen by either a complete suction cup mount or a tape mount. Dashcam constantly records the road ahead when the vehicle is in motion or driven on the roadway. In addition, it also provides video evidence in an event of an accident. Nowadays, it becomes very common. Numerous types of dashcams are available on the market, ranging from basic video cameras to ones that also records parameters, like date/time, speed, G-forces and location.
What Features To Look For In A Dashboard Camera
There are some features that we need to pay attention before deciding which dashboard camera to buy. Below are some lists that explain what to look out for when selecting a camera.

Dashcams come in different sizes, and the smaller the size (more discreet), the better it is. Obviously, packing lots of features in a small device would be more expensive. Moreover, black color is preferred than other colors for a dashboard camera, as any other color would draw too much attention.
The most important factor in a dashboard camera's video quality is the video resolution. Even though there are some cheap camera models that record at VGA resolution (640×480), there won't be lots of details to be seen on such footage. For decent results, a camera that supports at least 720p resolution (1280×720 pixels, also known as HD) should be used.
The standard in 2014 is definitely 1080p (meaning a resolution of 1920×1080 pixels, also known as Full HD). In order to keep track all the details, and to capture the scenic drives in all their glory, a high quality 1080p camera is available for below $100.
Sample 1080p video, as recorded by a LK-7900
The highest resolution dashboard camera currently available is the GS6000 A7, which is based on the brand new Ambarella A7 processor and supports up to a massive 2304×1296 pixels, and at a 30fps frame rate.
Most dashboard cameras with a resolution of 1080p or above would take decent video during daytime. The ability to grab good quality video footage at night is what separates the great camera models from the average.
While true night vision is not necessary for a dashcam, the ability to capture quality footage independent of sunlight is essential if lots of driving at night.
The DOD-LS300W has great night video quality, due to its large aperture
and a technique called WDR.
A loop recording is an absolute must in a dashboard camera. It is to make sure that the camera does not just stop recording when it runs out of disc space. Loop recording means that once the storage is full, the camera would automatically overwrite the oldest files on the memory card, thus enabling it to record indefinitely.
Needless to say, there is always an option to mark those parts of the footage that we would like to keep. If the camera has a G-sensor (see below), files would automatically be marked for safekeeping whenever an impact is detected.
It is a must-to-have feature. It means that the camera would automatically start recording when the ignition key is turned.
G-sensor (motion detection)
It is a very useful feature. When the G-sensor detects an impact, it will automatically mark the current footage for safekeeping (so it doesn't accidentally get deleted by the loop recording).
If someone damages your car in your absence, a dashcam with parking mode will come to life and start recording, so you can see who hit your car.
This comes in handy if the video footage will be used as evidence. Make sure the date and time should be correctly set when the camera is installed.
(Optional). It is great to have a screen when the camera is recorded, nevertheless, it also makes the camera bigger, and thus less discreet. The remarkable exceptions are rear-view mirror cameras like the HDVR-180, which integrate the screen right into the mirror's surface.
Optional, but it is very useful feature. It will allow you to record your exact position and speed, and to blend it into the video feed along with the date and time stamp. The obvious disadvantage is that the camera will be bigger and more expensive. Some dashcams like the BlackSys CF-100 give you the option to connect an external GPS module, keeping the camera small and discreet.
Although regular dashcams record the view through the windshield (looking forward), the dual-channel cameras also look back into the passenger room of the car and/or out through the rear window. Indeed, this is a great feature, quality dual-channel dashcams like the BlackVue DR750LW-2CH are still quite a bit more expensive than single channel systems.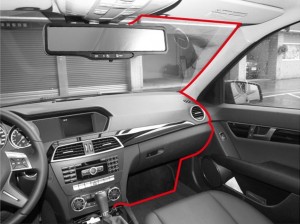 Dashboard cameras are usually attached high on the windshield (behind the rear-view mirror), but they get their power from the cigarette lighter. So, a cable that you can neatly tuck away around the windshield is needed rather than having it dangling down the middle.
Hence, dashcams usually come with a power adapter cable at least 11ft (3.5m) long, in order to allow us to install it in the most discreet way possible.
Of course, the cable can also be connected directly to the car's fuse box or internal wiring if the cigarette lighter is not preferred.
Dash Cameras
Garmin Dash Cam 20 Standalone Driving Recorder
HD GPS standalone driving recorder with 2.3-inch LCD display
Snapshot feature allows you to take still images, even remove from vehicle to capture collision damage
Integrated microphone records the sounds inside your vehicle
Incident Detection sensor automatically saves footage of collisions and incidents
Car Camera

Generic K6000 2.7″ Full HD 1080P DV Car Camera DVR Camcorder Video Recorder with Night Vision
High-definition camera, high-definition video.
LCD screen size: 2.7LTPS
Camera: 140 A + grade high-resolution ultra-wide-angle lens
Memory card: TF(up to 32GB)(the card is not included)
Language: Russia, Japan, France, Italy, Germany, English, Chinese, Korean, etc.
Car Dash Camera
Cobra Electronics CDR 840 Professional Grade Dash Camera
1080P Full HD – records everything you see in 1080P Full HD Video

Internal GPS – Embeds exact location and time in every recording. Free PC software allows you to view along with location and G-Sensor information

1.5″ LCD screen – Additional video playback on your TV or computer

118° viewing angle – Crystal clear video that matches Drive HD's best performance identifying license plates at long ranges

Easy installation – Includes an 8GB MicroSD memory card so the unit is ready out-of-the-box
Car Camera System
3.5″ LCD monitor

120° CMD camera
Reference:
http://dashboardcamerareviews.com